June 14, 2000 MORE MUD DRAGS!!!!!!!
Welcome
I had great intentions of putting a new page up long before now, but obviously, I let my mouth overload my "common sense"! :0) The spring flowers will follow later........hopefully by fall :0) I'm going to go ahead with last mud drag, as the next one is in 3 days and I don't want to face an arena of disappointed drivers who are expecting pictures. Not a good idea when you're the photographer, I'll explain later........
In addition to the ATV and truck classes, we had Justin Smith join in the fun on the 8th of July with his motorcycle! He was the only entrant in that class that day. However, we understand there will be a few more for the next race. They really fly across the pits and are fun to watch!
Speaking of fun to watch, the Dalrymple "Boys" (father, Freligh, and son, J.P.) always delight the audience. They both have rigs in truck class 4 - the anything goes category. "Dirty Thrills" is Freligh's mean machine. It's a "floater" and it'll definitely skim across the pits!
J.P.'s pride and joy is named "Wild Thing" and lives up to every letter of it! Wild Thing holds the record for going through the 200 foot pits in 3.52 seconds!!!
Taking pictures of the racers can be very stimulating at times, too. The time allotted between when you can snap a picture and you get splattered is always fun to try and figure out, especially with this digital camera! I would say the average time for class 2 and up to run the pits is about 6-9 seconds and naturally, with action pictures, the closer the better!! I stand right on the other side of the wooden barrier (yes, right there where the mud is spraying over it!!). I tried to get this truck, but I was too slow! This is Mudzilla!!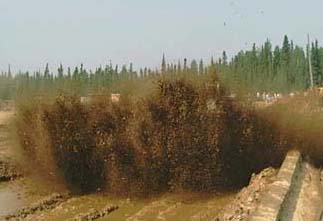 I also sometimes get used as a target (hence, the "I don't want to face an arena of disappointed drivers!" hahaha!). It's all in good fun and keeps me agile :0) This wasn't a real muddy day for me......I was being SUPER careful because of the hat ha!ha! (which I made myself, by the way.....long winters!)
Everyone appeared to have a good time at the races and it sure was reflected in the winners faces.
The rest of the pictures I took at the July 8th race can be seen at http://photos.yahoo.com/muddy_lady_2000 , my new Mud Bog Album.The next race is a two day race (July 29 &30) and I hope to get some coverage up soon. You might want to check back at my album too, tho - the pictures might get up there sooner than on this page!!
This weekend is also the Deltana Fair - the biggest weekend of the summer for most Deltoids/Deltans (depends on your point of view). It is sort of like a "town homecoming/last hurrah of the summer" and many friends and relatives make the yearly pilgrimage for the festivities. Hmmmmmmm ......maybe a page about the fair??????? At anyrate, thanks for stoppin' in! Drop by again if you get a chance!
---
| | |
| --- | --- |
| You are visitor: | Last Updated: 6/14/2000 |
| | |
| --- | --- |
| Drop me a line! Email | This site powered by |