June 13, 2000 MUD DRAGS!!!!!!!
Hi!
If you are a first time visitor to my page, "Welcome"! If you are returning visitor, "Welcome back"! I have been getting a bit of email lately about "updating" this site. Thanks for the nudges, sometimes I need them :0). I was sort of falling into.......well, it's only 6 more month's till Christmas, and I would be current again! Hell, I waited 20 some odd years for "bell-bottoms" to return, what's 6 months? haha...........Anyway..........
One of the great ways to know that summer has officially arrived in Delta is with the onset of the Interior Racing Association's "Mud Drag Racing" season. It's a great way to catch some rays, visit with friends and play in the mud instead of the snow! It was started by a few people here in Delta, but has grown quite a bit and people from all over the state come to show off their rigs and try their skills in the pits (of course, swapping lies is mandatory and mascots range from antlers, to trolls, to "mudzilla"!
It's a family affair, so there are no age barriers. There are a few safety rules naturally, but basically, it's if you got enough guts, go for it! We have great support from the EMT's who volunteer their time and equipment to help in case of a mishap
And this race, the Northern Warfare Training Center at Ft. Greely supplied our "retrieve" vehicle
As a matter of fact, the whole team that puts these races on is done by volunteers - from getting the pits ready (2 side-by-side 22' wide by 200' long mud holes)
to working the concession stand, staging the vehicles, announcing, etc, etc, etc.........it is a wonderful group!
3 and 4 wheelers are popular, and they get the first crack at the mud
Being truly Alaskans and devoted to their snowmachines, some of our racers have found a way to enjoy them in the summer, too!! They are the next to test their skills.
These are followed by the truck classes 1 - 4. I'm not really sure what the differences are, but I think 1 - 3 have to do with engine size,
...and 4 is as bad as you want to get or mostly, how much you can afford. :0)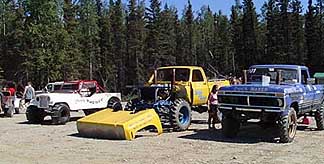 I know we have some that race nitrous in this class, but some just beef their rigs up big time.
Intermission is the time the spectators get to test the waters. HUMAN mud races!!! They get to run the same pit as the vehicles for a prize of $20 for the 13 years and under category and $50 for the 14 years and up.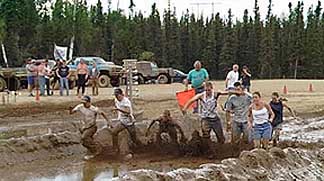 Oh, the thrill of victory

........................and the agony of defeat
Unfortunately, I had to run and get fresh batteries and didn't catch all the winners before they left, but these smiley faces were eager to say "Hi" to all you folks in cyber-space :0)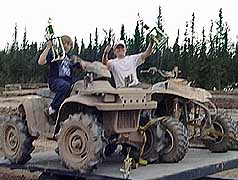 The next race is scheduled for July 8. If you want more info on the race or would like to hear more about them, dropme a email! I hope to have some better pictures for you next race. I am just learning how to take "action" shots with my digital and hope to improve (course, the fact that I had left my glasses at home didn't help any! haha!).
Anyway....... thanks for stopping by. Drop by again if you get a chance. I went out the next day and got some pictures of the spring wild flowers. I am planning on getting them up before the next race...............but then, there's that "Delta Time Factor" hmmmmmmmm
---
| | |
| --- | --- |
| You are visitor: | Last Updated: 6/14/2000 |