Welcome to my page!!! I live in a small town in Alaska and want to share the joys (follies) of living in "The Great Land". If this is your first time visiting, the page is laid out with my newest ramblings here, and you can find past entries by clicking on the Archives buttons. If you are a returning visitor, welcome back! ........At any rate, here are the latest meanderings of a refugee (wanna be) from the tropics who happens to live in the arctic!!

YAK ATTACK: 6/01

I guess I've procrastinated long enough - considering my previous entry on this site is almost 2 years old, but anyway, here is my newest episode from the land of the Midnight Sun! Actually, this event happened last year, but "Delta Time" etc, etc.......

Experiencing the 24 hour daylight "solstice" in the summer, is a moment that most Deltoids think we HAVE to celebrate.......best justification, to my reckoning, is just because the opportunity avails it's self. The manager of one of our local watering holes, Kathy (she doesn't like her picture taken as much as I don't like mine taken, so we compromised),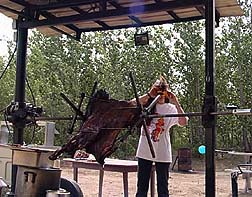 decided to make the summer happening somewhat unique and sponsor a 2 day "Solstice Yak Attack" .........hey, it's an excuse to party! A local farmer raises the critters - yes, right here in beautiful "Malfunction Junction" we have a yak farmer! The temptation of a new taste sensation combined with the company of partying Deltoids was impossible for this wanna be "Macho Sourdough" (who, in reality, is a "Whoosie Sourdough"...well, I peed in the Yukon once, I guess 1 out of 3 is OK for a whoosie :0) to resist. Ahhhhhh the call of the wild..........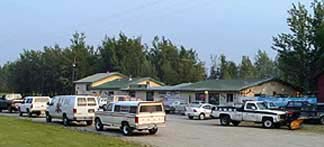 The Cherokee Lodge was first started during the pipeline. After the state's interest in developing the agricultural community in this area, the Cherokee fast became known as "the Farmer's Bar" because of it's location - about 15 miles out of town on the Alaska Highway in the heart of the "Barley Project"....although other locals who are willing to travel and dodge troopers on the way home, still find it a fun place to let it all hang out! For the Yak Attack, a convenient yard bar was made outside behind the mural........
The Cherokee Lodge holds the honor of having the only mural on public display in the Delta area!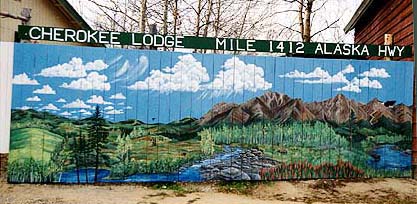 It was painted in '91 by local artist Dave Martin, for another bar party....(OK, don't ask which one, as they all seem to run together after a period of time :0))........and it is truly a work of art. I figure it's about 7'x19'. At first glance, it looks rather interesting in it's depiction of the Alaskan outdoors, but if you get up real close and look at the work Dave put into it, it is amazing!! The details are incredible, especially considering he painted the scene on 1x6 rough cut lumber! If you look close enough, you can see the mill cuts.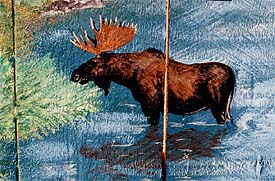 The first year he painted it, they held a contest to see if anyone could accurately count all the Alaskan critters that were in the mural, - these are just the "big" ones -
and I don't think anyone guessed or counted the correct number!!..........oops, I'm getting off the track and am leaking words I had initially conceived of putting on my page dedicated to local "watering holes"......... That page will come together in Delta Time! In the meantime......
Back to the story! The yak on the spit appeared to be the size of a good-sized caribou, but I was told by the "Chefs", Wayne and Charles (Wayne is the one on the left), it was a young animal. This extraordinary Bar-B-Q pit was the product of their ingenuity to make do with items on hand - or what is commonly called "plan B" up here. Sometimes, I look at the ads on TV, etc, and have to smile when they show their LARGE MODEL rotisserie :0) This monjobi was obviously built by men who have lived in the "bush" for awhile. Using a bathtub for a fire pit seemed to epitomize the phrase "recycle!!!
The temperature remained great both days - about 80F - perfect days to socialize and soak up the energy 24 hours of daylight gives a person. The Cherokee Lodge and local musicians provided live entertainment for our listening and/or heckling pleasure :0)
They used a "Tundra Buggy" for a sound stage. Now, there's NOT a whole lot of Tundra Buggies left in the state, and I'm not really sure they are even legal to use anymore. Tundra Buggies used to haul goods up into the far interior and northernmost parts of the state where there were no roads, and airplanes or dogs were not practical. Due to Alaska's delicate tundra, they tended to leave great ruts. As a matter of fact, tracks from "tundra trains" that ran 30 to 40 years ago can still be seen on the landscape they roamed........... Well, this particular "retired relic" has not outlived it's usefulness in our community. It still makes a terrific conversation piece and a wonderful stage!
The food was an extremely pleasant surprise! I know I'm supposed to be some sort of Alaskan Sourdough and like all the abundant wild game (fish/meat) because I've lived in Alaska over 30 years, but truth is,
I normally would rather have a hot dog!!! :0) That being said, I tried a piece of the new meat and hoped I wouldn't have to choke down too much to be sociable! I was pleasantly impressed.......tasted as good as anything off the grocer's shelf! If they hadn't told me it was yak, I'd have bet it was sweet beef!!!! Closest I've ever tasted to beef before was Bison, which is pretty good, but still a little "gamey" unless you're eating hamburger! ........
One of the really neat things about living on a tourist route can be visiting with "explorers" who have come so far to experience the life style you live with every day. You never know who's going to drop in to help celebrate at a party! Dave, Tricia, Jason and Lisa were from LA and DC stopped by to join in the fun. They were part of a military support team that was here in the Delta/Fort Greely area for The Armed Forces Eco-Challenge. If you want to learn more about the challenge, go to www.ecochallenge.com/armedforces/alaska2001/ .They appeared to have a great time and definitely enjoyed swapping lies :0) I had the feeling that they thought they had fallen through Alice's Looking Glass, complete with the "Mad Hatter"! We also had travelers from New Mexico, Canada and Florida stop by to visit a spell.
Parties are also great for combining celebrations. Gil and Slick, (the couple on the left) decided to celebrate their 10th anniversary in style and arrived at the festivities in a limousine accompanied by their "honorary" best-man and maid-of-honor for the day, Bob and Terry. Can you believe that??? Out in the middle of no-where, and we have a limousine service!! WOW! Maybe we do live in Alice's looking glass after all :0)......
Wish I could put up more pictures, but I'd probably get run out of town - best I just leave it to your imagination :0)! I'll just close this little glimpse into this recreational diversion with my thanks for stoppin' by! Hopefully, I'll get more Delta adventures up soon..............the Festival of Lights happens later this month............ hmmmmmm...........
---
| | |
| --- | --- |
| You are visitor: | Last Updated: 3/16/2002 |
| | |
| --- | --- |
| Drop me a line! Email | This site powered by |